Husky Liners X-Act Contour Rear Floor Liners, FULL COVERAGE 14+ Chevy / GMC Double Cab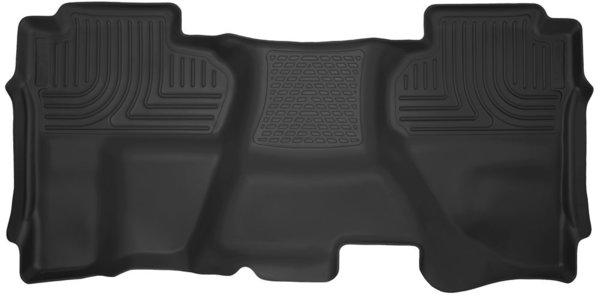 Husky Liners X-Act Contour Rear Floor Liners, FULL COVERAGE 14+ Chevy / GMC Double Cab
The Husky Liners® X-act Contour® perfectly matches the contours of your truck or SUV and brings together indestructible strength with a soft, comfortable cushion. Add to that a premium look and Husky Liners exclusive features an amazing fitting floor liners. This application is for FULL COVERAGE only. FITS: 2014 Chevy Silverado / GMC Sierra 1500 & 2014/15 Chevy Silverado / GMC Sierra 1500 / 2500/ 3500 Double Cab

X-ACT CONTOUR LINER
FORM IS HUSKY'S FUNCTION- Form fit design process perfectly forms each liner to the detailed contours of your vehicle.
SOFT NEVER FELT SO TOUGH- Rubberized duragrip provides the perfect balance of softness and strength.
HUSKY LINERS HAS GOT THE EDGE- Form fit edge is a raised ridge that runs along the door jam, protecting your truck from all the mess.
PUT YOUR LINER ON LOCKDOWN- Stay-put cleats help keep the liner from shifting around under your foot unlike other liners.
GUARENTEED........FOR LIFE- These lines are MADE IN THE USA and backed by Husky Liners lifetime warranty.
SPECIFIC FIT- 2014+ Chevy Silverado / GMC Sierra Double Cab